What
An fast, scalable, online collaboration tool to help government communicate and engage with the public through websites and blogs.
Built for agencies with minimal technical knowledge — while still catering for advanced users wishing to customise, with their own themes and plugin code they can easily deploy — without procuring and managing hosting.
Why
To redevelop the existing website to improve usability and accessibility, in a small time frame.
As well as branding for the service, which was also used in print and digital marketing and information.
How
Branding
Govspace's branding needed to convey it was different to any existing offerings, while still conveying authority and trust. I first started by creating a logo which convey this, then moving on to adding colour…
Refusing to blend into the sea of navy blue existing government websites; a colour scheme of light and dark greys, contrasted with a highlight of bright orange and white was chosen. With sparing amounts of bright blue and green throughout, used as action colours for interactive media, such as the website.
Design
To remain simple while meeting the branding goal. A key focus was revisioning the content — particularly on key pages — to significantly improve readablity and usability and in turn, increase signups.
Development
Although based off an existing WordPress theme (to save time), there were many requirements that required custom coding from within a child theme; such as a custom homepage design and adding in featured image capibilities.
Hosting
Scalability was a crutial for this service. Utilising layers of caching and redundancy I was able to ensure Govspace remainede both reliable and responsive, even when under significant, unexpected load.
Imagery + Icons
Creation of featured site imagery as well as library of govspace styled icons for use for blog posts and announcements.
Leadership
As the platform's technical lead I worked on many technical tasks across the entire tech stack, while overseeing, assisting and reviewing development tasks from other developers.
This role also required me to be in ongoing contact with other stakeholders; both internal and external, technical and novice.
Final design
govspace.gov.au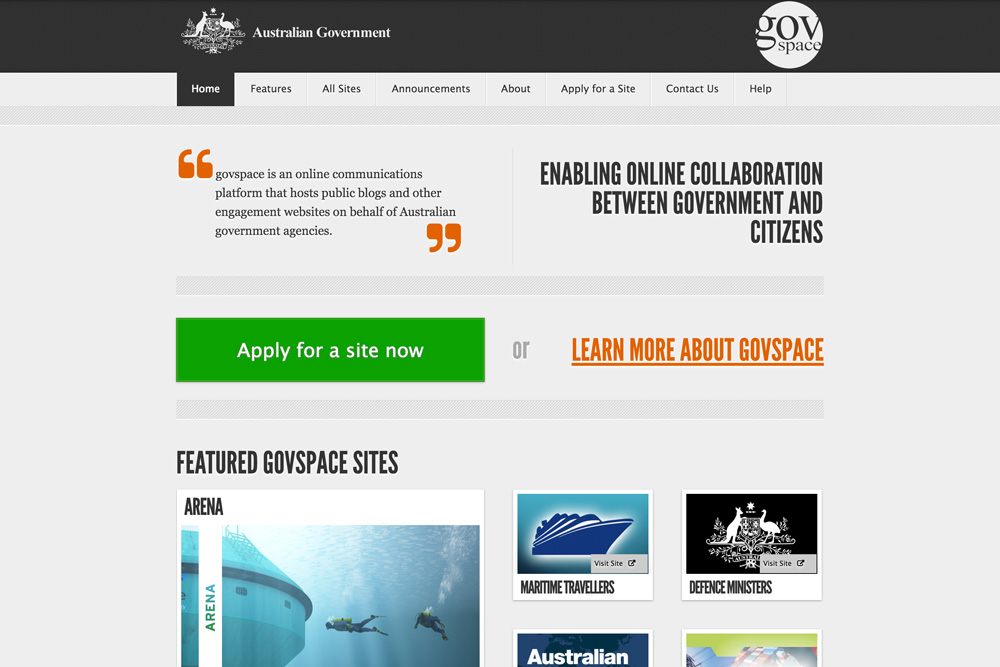 Client feedback
We had the website live within six weeks — compared to a 3-6 month process with a digital agency.
I'd like to personally thank all the relevant staff at the Department of Finance for how diligently they ran and maintained the platform.
The platform helped transform how Australian government agencies looked at website development and costs.
In the media
…Govspace helped propel government web sites from a 20th century 'brochure-ware' approach to become more engaging and interactive.…